---
Get Midland while you can. They're going OPP.
If you do not have access to the private side please do not contact me. I do not give employment advice other than what is publicly posted.
---
I got me a gold Midland.

Still looking for the Soo

Also looking for a current gold Peel patch
---
King Poobah
Posts: 1730
Joined: Sun Feb 04, 2007 5:10 pm
Location: Collecting shoulder flashes in the CFL Club
Contact: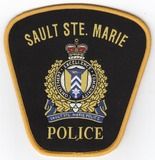 I got mine by writing a letter to the Chief and enclosing a scan of the other 25 Soo variations I have in my collection...
(They were even nice enough to return the cheque I'd enclosed)
And I checked my traders. No current gold Peel, sorry...
---
---
---
Users browsing this forum: No registered users and 0 guests